Where do I begin? This was one of the most amazing experiences of my life.
Day 1 - Thursday
I flew directly into Colorado Springs. I was met at the airport by Ava, a representative from USAT. We drove directly to the Olympic Training Center (OTC). One I arrived, they took my picture for my OTC badge , gave me a HUGE bag of swag (Rudy tri bag, Rudy helmet, sunglasses, bike jersey, t-shirt, goggles, swim cap and the list goes on), and the agenda for the camp. Then they whisked away my bike box to assemble my bike as I had a Retul bike fit in less then an hour. I headed off to check into my dorm room. All the campers were sleeping and eating at the OTC during camp. The dorm brought back so many memories of college. I felt like a young kid again.
The Retul bike fit was great! We made a few adjustments which will hopefully help me be more comfortable in the saddle and faster. I met a few other campers during my fit. After my bike fit, I had a few hours or so to wander around the OTC grounds. They have flags flying from all the countries that participate in the Olympics and pictures and information about all the sports.
Off to the welcome reception where Rob Urbach, CEO of USAT , and Tim Yount, COO, welcomed us to camp. There were only 9 athletes including myself. They gave us an overview of the schedule as well as a brief bio of all the coaches that would be on-site. Then we were off to the dining hall for dinner. The food was amazing! The choices were plenty! You name it, they would provide it. This is my idea of a great vacation...not having to cook.
After dinner, we had our individual nutrition reviews. Before camp, we had to provide a 14 day food journal. I met with Nuwanee, my nutritionist. She went over the athlete's food plate and ways I could improve my fueling. I was able to ask questions specific to my nutritional and training needs. What a great opportunity.
Off to bed.
Day 2 - Friday
Off to the Athlete Center for a swim. Diving into the pool that Michael Phelps and so many other great swimmers have trained in was cool. I felt super fast that first 50 meters until I turned around and headed back. WOW! It was like I had just finished a long workout. Was it the altitude? Not really sure. Once out of the pool and changed, we headed to breakfast. Fresh made omelets and fruit...yummy! After breakfast, we went on a tour of the OTC. We saw the male and female wrestlers practicing, a room that can adjust altitude, heat and humidity so you can train in any type of race climate and well as many other cool things.
After the tour, we had an hour and half strength and lifting session. We were joined by Greg and Laura Bennett. Greg and Laura are professional triathletes and Olympians. During the session, we focused on exercises that would benefit us as triathletes. Then we headed to lunch.
After lunch, we split into two groups. My group started the bike drill session with Susan Williams (Bronze medalist in triathlon in the 2004 Olympics and USA Triathlon Hall of Fame Inductee, Tim DeBoom (2x Ironman World Champion and USA Triathlon Hall of Fame Inductee), Melissa Mantak (ITU World Champion, USA Triathlon National Coach) and Barb Lindquist (Olympian and USA Triathlon Hall of Fame Inductee). We went through various drills and intervals. After the bike, we swapped with the other group and headed to the run drill session with Bobby McGee (one of the most sought after running coaches in the world) and Alan Webb (Elite Triathlete and Olympian in Track and Field...oh yeah, he also set the American record in 2007 for running the mile in 3:46 - SUPER FAST). I really enjoyed going over run drills and form. Bobby is a really nice man who is very passionate about running.
Back to the OTC for a quick shower and dinner. After dinner, with all our coaches, we had a questions and answer session with all the Olympians that we trained with earlier as well as Jen Gutierrez (2000 Sydney Olympics and first American woman to qualify for the US Olympic triathlon team) and Tim DeBoom. It was a great opportunity to learn more about their careers as well as ask specific questions that could benefit us. It's now after 9 and time to for bed.
Day 3 - Saturday
Up before 6 to meet with the other athletes and coaches for breakfast, we then heading to the pool for a 3 hour swim drill session and under water swim analysis. Since swimming is A LOT of technique, this session was really helpful. We had Barb, Susan, Greg, Laura and Jen helping us. It was almost one-on-one training. After a quick shower, we were off to the US Air Force Academy. They loaded up our bikes and once we arrived, we biked onto the grounds and were met by the Air Force Academy Triathlon team. They were our personal tour guides along with our coaches. We did two bike/run bricks and stopped for lunch. After lunch, we biked by to the vans and headed off to the Velodrome. I have to admit, I didn't like this very much. I went around twice and called it quits. It wasn't my cup of tea. Several of the other athletes were tearing it up and flying around. Afterwards, we had a transition clinic lead by Greg Bennett. We had a mini mount and dismount contest. He showed us how and why he sets up his transition area. Even though I have been racing for almost 20 years, you can always pick up something beneficial. Then we all biked back to the OTC. Again, another quick shower and off to dinner. Holy cow did we laugh during dinner. We learned that Greg and Laura have lots of nieces and nephews (I think it was 18). Greg tried to name them all but not sure he was successful. They all have very unique names. After dinner, we met with Barb Lindquist who evaluated our underwater swim analysis. We all received a lot of helpful tips on how we can improve our swim. We left with a copy of our swim analysis and ways to make us faster. 9pm, time to get some rest.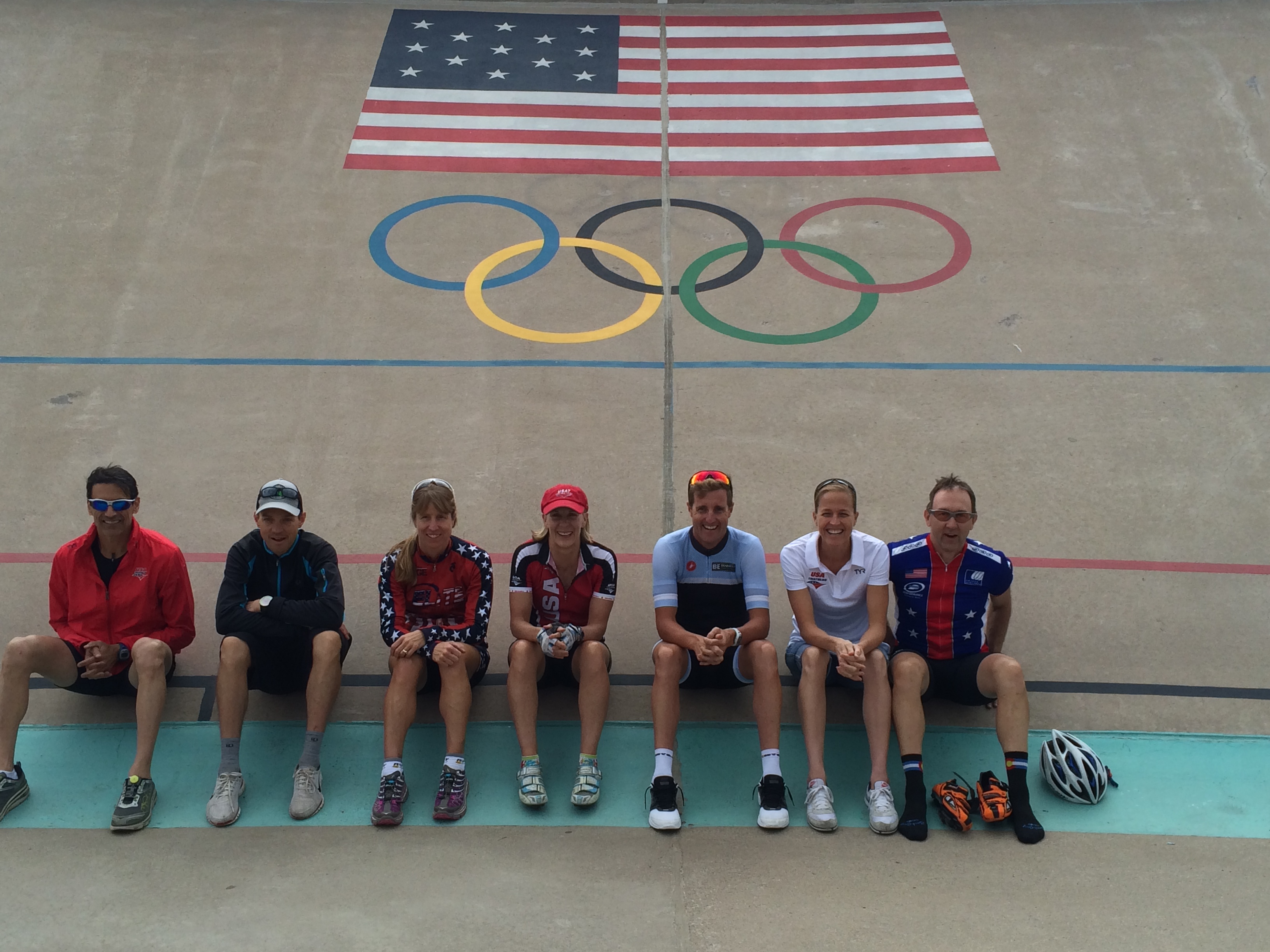 Day 4 - Sunday
Up again before 6 to meet for breakfast and start the day. We were biking to the Manitou Incline. I climbed the incline with Susan Williams. Since this was my first time, I did stop several times to take pictures and enjoy the view. Susan and I ran down and met up with Tim Yount, Tim DeBoom and a couple other athletes. We then decided to go out for a ride before we had to meet at the Garden of Gods for lunch. We did an awesome climb! I was starving and ready for lunch. We headed back down and made it to the Garden of the Gods. At this point, I think I could have eaten the box that my lunch came in. It did start to rain but cleared up by the time we got back on the bike and headed to the USAT headquarters. Once we arrived, we were able to shower up and use the NormaTech boots before our individual massage sessions. After the massages, we listen to Justin Chester talk about "The Art of Balance in Triathlon". Then off to a local pasta restaurant for dinner. The dinner was yummy and filled with great conversation.
Susan and I heading back down.
Day 5 - Monday
Unfortunately, I had a 6a flight home so I had to leave super early. The other athletes were treated to a first class super sprint triathlon. From what I understand, USAT put on a GREAT event. The lake was too cold so they swam in a pool. I heard they did an amazing job! It was set-up just like a national event. They even had police who shut down the street for the bike...for only 8 athletes!
I can't say enough great things about camp. I gained a lot of knowledge, some new friends and an experience that I can tell my kids and grandkids to come. It was truly a fantasy and once-in-a-lifetime opportunity. That's until I go back next year.